Stratford, Ontario is a pretty city with small town charms, located about 1.5 hours from Toronto. I've rated it one of the top road trip destinations in Ontario. Even though I've visited several times, I intend to return again and again. There are so many wonderful things to do in Stratford. You'll want to visit your old favourite spots and see what's new in town with every trip.
This Stratford Ontario travel guide will help you plan a weekend trip there, especially if you're visiting during the summer months. I feel like you could do many of these activities all year long, extending into the spring, fall and even the winter. For those visiting in the winter, you might find my article: Things to Do in Stratford in the Winter to be even more useful.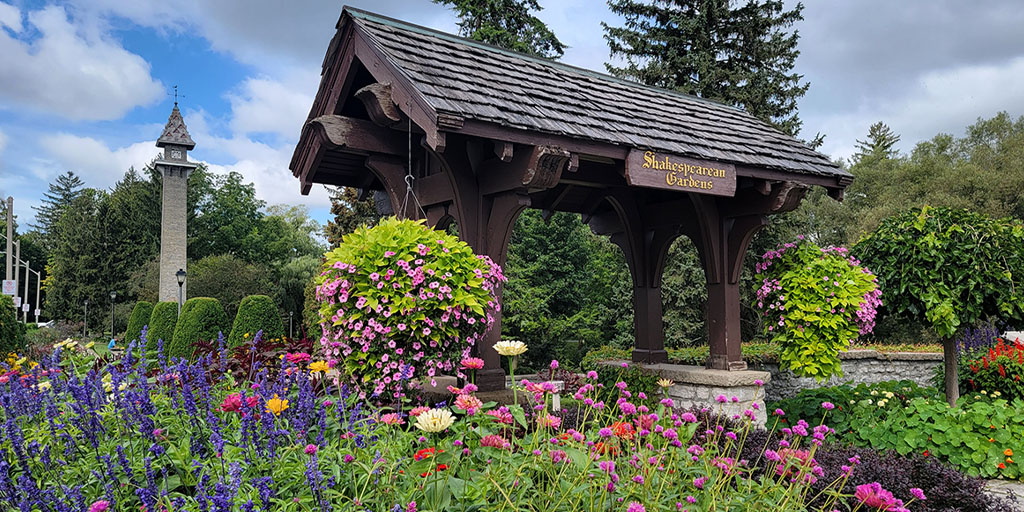 Where to Stay in Stratford Ontario
In the city of Stratford, there are lots of fantastic hotels. Justin and I stayed at the brand new Perth County Inn, situated in the perfect location in downtown Stratford. It's right across the way from the beautiful Shakespeare Gardens. Plus, there's a taco shop and a cocktail lounge in the same building (more on that in a bit). What's not to love?
All five rooms are on the main level, so there are no stairs or elevators to contend with. In fact, the check-in process couldn't be easier. On the morning of your stay, you'll receive the key codes to enter into the front door and your room. Check yourself in and out at the end of your stay.
Justin and I spent the night in the 1832 room. It's called 1832 because that's the year that Stratford was founded. First, I love the exposed brick wall and the modern stylings of the room. There's a smart TV, fridge, Bose stereo system, a little seating area, and a queen sized bed. Fast Wi-Fi is also included with your stay.
There's complimentary parking just outside of the hotel, but there are only three spots on a first come, first serve basis. Otherwise, you can park at one of the parking lots in town. We loved our stay at the Perth County Inn, so be sure to book your stay and make this property your home in Stratford Ontario.
Stratford Ontario Travel Guide: Best Activities
Looking for some of the best things to do in Stratford? We've got a great combination of activities and attractions that are perfect for a couples trip to Stratford, a girlfriends' getaway, or even a solo trip if you choose. There are outdoor activities, pretty places, arts and cultural events, luxury spa and wellness experiences, public art viewings, and even some retail therapy!
Go Paddle Boating on the Avon River
Going for a stroll along the Avon River is a wonderful activity. Why not explore the river itself? By going paddle boating on the river, you can witness this beautiful scenery from new vantage points at a leisurely pace.
Justin and I hopped aboard a paddle boat, rented from Avon Boat Rentals. They have paddle boats available on a first come, first serve basis. A paddle boat costs $25/hour to rent, and an hour is enough time to go out for a spin. It's also possible to rent canoes and kayaks.
The Avon River flows into Lake Victoria and you'll navigate your way beneath a few bridges. There are motorized tour boats on the river as well, and I was surprised that they are designed to fit under the bridges, too. The ducks and swans are very friendly and will likely follow you in search of a snack.
Wander Around the Shakespearean Gardens
The Shakespearean Gardens are pretty close to the paddle boat rental office, plus they're right across from the Perth County Inn. It's one of the best free things to do in Stratford, especially when all of the flowers are in bloom. There's a small rose garden and numerous beds of bright and cheery blooms.
There's a really intriguing Shakespeare bust by artist Cleeve Horne. You'll also discover the remains of the 19th century Dufton Woollen Mill, which is simply one lone chimney.
In total, there are over 60 varieties of plants, including ones mentioned in Shakespeare's plays. For instance, there's a patch of goutweed, a plant that would have been familiar to Shakespeare. You might also find some herbs like fennel, rosemary, and tarragon.
See a Performance at the Stratford Festival
Seeing a live performance at the Stratford Festival is one of the most popular things to do in Stratford Ontario. It's likely to attract the most tourists to Stratford, and the festival has returned in full force! There are four theatres: the Festival Theatre, Studio Theatre, Tom Patterson Theatre (opening in 2022) and the Avon Theatre (not operating in 2021).
The Stratford Shakespearean Festival started back in 1952 by journalist, Tom Patterson. The first season of the festival began in July 1953 with a performance of Richard III and All's Well That Ends Well. Nowadays, while Shakespearean plays remain a primary focus of the Stratford Festival, there are also other non-Shakespearean performances, as well as musicals and original works.
This year, the Festival Theatre and the Studio Theatre are two open-air theatres with socially distanced seating arrangements. Justin and I attended R+J, a unique spin on Romeo and Juliet. It's engaging and modern, and intended for both sighted and blind audiences alike. We really enjoyed R+J and highly recommend that you experience it, too.
Pamper Yourself at Illume Wellness Spa
When you're visiting Stratford, take some time to treat yourself to a relaxing and rejuvenating experience at Illume Wellness Spa. Illume, short for illuminate, is a space for healing and the revitalization of the body and mind. They also focus on green and clean beauty products, which you can find in their expansive shop.
The two of us tried a halotherapy session for the very first time. Illume Wellness Spa has a salt room where refined Himalayan salt particles are pushed out in the air. Breathing in the salt particles is thought to detoxify your body and naturally flush internal inflammation. It's also wonderful for allergies, asthma, stress, and sinus congestion.
You can heighten the experience even more by adding a sheet mask treatment, too. Justin and I spent 45 minutes in the salt sanctuary, which is on par with spending a day at the ocean. I definitely felt more relaxed after spending some time in the salt room. It's a great place to unwind and breathe deeply.
Go Shopping in Downtown Stratford Ontario
Stratford has some of the best boutiques and unique shops in all of Ontario! I highly suggest browsing the stores as you're bound to find something that interests you. From clothing to home decor and even a couple of record shops, Stratford is a great place to find gifts for your loved ones (and treat yourself!).
Ontario Street is one of the main shopping streets, but you can also wander up Downie Street and around Stratford City Hall (a historical building dating back to 1900!) for the best shopping. There are also lots of cute coffee shops in this area, too. Make sure you walk around all of the little streets in the downtown core of Stratford so you don't miss anything.
Witness Public Art at Gallery Stratford
Visiting Gallery Stratford is another amazing free attraction in Stratford. It's one of Ontario's longest operating public art galleries, and it's open to all members of the public for free (or a small donation, if you wish). The gallery focuses on contemporary visual art, especially regional and Canadian art works.
While Gallery Stratford wasn't open on our visit to the city, they have an amazing outdoor public art gallery that you're free to visit anytime. Go for a wander around the property to witness beautifully painted walls and bridges, as well as sculptures and pieces made out of recycled materials.
Admire the Light Display at Tom Patterson Island
Lights On Stratford is an annual winter festival in Stratford with elaborate light displays, free for all to enjoy. In the summer and fall, they have a pop-up at Tom Patterson Island (in the middle of Lake Victoria) and the Stratford Festival Theatre.
Walk across the little bridge from the mainland to Tom Patterson Island. The bridge is all lit up, and there are strings of lights between all of the trees on the island itself. It's just a small island, so it will only take a few minutes to stop and admire the lights. It's really pretty and worth the trip. At the Stratford Festival Theatre, there is a glowing red heart in the window.
Stay tuned as the next winter Lights on Stratford festival begins on December 17th, 2021 and lasts until January 28th, 2022. The theme for Lights on Stratford 2021 is JOURNEY.
See Justin Bieber's Bronze Star
Of course, one unique thing about Stratford is that it's the home and birthplace of world famous pop star, Justin Bieber. You can see the Biebs get recognized with a shiny star on the Stratford Bronze Star Walk of Fame in front of the Avon Theatre.
If you want to delve more into Justin Bieber's ties to Stratford, you can roam around the city using this Stratford self-guided audio tour. There's also an elaborate Bieber exhibit at the Stratford Perth Museum called Steps to Stardom.
Cafes, Breweries and Bars in Stratford Ontario
Coffee lover? How about beer or cocktails? Stratford has got everything from cozy coffee shops to artsy cocktail lounges. Of course, there are three craft breweries right in town, plus two more craft breweries in nearby villages within Perth County.
Visit Stratford Breweries on the Bacon and Ale Trail
We love visiting breweries when we travel, so we knew that stopping at several Stratford breweries had to be on the agenda. If you plan to try some local brews, be sure to pick up your Stratford Bacon & Ale Trail tickets from the Stratford Tourism Office (and several other locations around town).
The Bacon & Ale Trail celebrates Stratford's history in both pork and beer. Each stop on the trail allows you to sample either bacon or beer. It might sound strange for a vegan to be indulging in a Bacon & Ale Trail, but you get five tickets to sample food and drink on the trail…and there happens to be five breweries.
Visit Black Swan Brewing Company, Heritage Hops Brewing Company, and Jobsite Brewing Company within Stratford. There are also two additional breweries on the trail: Broken Rail Brewing in St. Mary's and Shakespeare Brewing Company in Shakespeare.
Not a fan of beer? Try Stratford's Chocolate Trail all year long or the Christmas Trail during the holidays. I go into more detail about both in this Stratford winter blog post.
Enjoy Cocktails at The Relic Lobby Bar
The Relic Lobby Bar was the perfect way to end our first day in Stratford, Ontario. Justin and I popped into this delightful neighbourhood bar, which also happened to be attached to our hotel. The design is Cuban inspired, and there's lots of comfortable seating in various sections around the bar.
While there are lots of tempting drinks on the menu, we had to get the one that came in the fancy glass. The "Wild Bird" is not only a delicious, fruity cocktail, but it's also served in fun bird glassware.
Coffee and Cats at The Alley Cat Cafe
I have walked by the windows of the Alley Cat Cafe a seemingly infinite amount of times during past trips to Stratford. Finally, we visited the adorable kitties of this cat cafe! The cats come from four different rescue centres in southern Ontario, and Alley Cat Cafe is trying to find their forever homes.
You can make reservations for a half hour or an hour, and I highly suggest making reservations as this place does book up. We had to wait an hour or so after booking our appointment. Justin and I got an iced coffee and a lemonade, and enjoyed them at the Stratford Market Square. There are lots of tables with umbrellas, so it's a great place to relax and unwind in the middle of the bustling city.
When you visit the cats, it's important to take off your shoes, leave all of your belongings (especially food!) in the little room before you enter the room with the cats. Then, you can play with the kitties! They were all pretty sleepy when we visited in the middle of the day, but some of them were looking for rubs and attention. So cute!
Best Stratford Ontario Restaurants
When it comes to the best restaurants in Stratford, I've put together a thorough vegan guide to Stratford. Here are some new restaurants and old favourites that we frequented this time around.
The Planet Diner
The Planet Diner is a mostly vegan restaurant and they describe themselves as a place "where herbivores can bring their carnivores". While there are a couple of omni-options on the menu, the vast majority is 100% vegan. Meat eaters certainly won't miss the meat here!
This mostly plant-based restaurant features vegan comfort food, like poutine, mac & cheese, burgers and more. They've also got some fantastic vegan donuts and cinnamon buns for a sweet treat after your meal.
I ordered the Southern Combo (crispy chick'un, mac & cheese, and slaw) with a root beer float, and Justin got the Chick'un Burger with a vegan Caesar to drink.
Pretty Good Pizza
Pretty Good Pizza is a new restaurant in town that opened up since my last visit to Stratford. They serve hand tossed, naturally leavened pizza both whole and by the slice. They also have snacks and appetizers, as well as beer and wine.
Justin and I got the shishito peppers to start (the chef prepared a special vegan sauce for them) and a pizza with vegan cheese as the main course. The pizza was perfectly chewy and the cheese was really yummy, too. You can choose to dine indoors or on their spacious patio out front.
El Cactus Taco Shop
El Cactus Taco Shop is another new spot in town, and it was right outside of our hotel, the Perth County Inn. Chef Alondra Galvez is a Mexican-born chef and graduate from the Stratford Chefs School. She has created innovative and flavourful dishes for this Mexican farm to table taco bar and takeout shop.
There are two vegan tacos on the menu: el Cactus (roasted cactus, poblano chili, avocado, ask for vegan cheese) and el Hippie (spicy walnut meat, cashew lime crema, avocado cream). We also got a vegan quesadilla and some Mexican sodas. These tacos were among the best we've ever had!
Edison's Cafe
Edison's Cafe Bar is a whole foods cafe owned and operated by a local husband and wife team. They have lots of vegan, dairy-free, and gluten-free options on the menu. It's called Edison's Cafe Bar because Thomas Edison was once a resident of the upstairs inn in 1863. You'll see a beautiful drawing of Edison across one of the cafe's brick walls.
I enjoyed a healthy and delicious chia pudding with fresh fruit, as well as a mug of freshly brewed coffee. Justin got an order of avocado toast on a bed of greens. Both of our meals were a great way to start the day.
Things to Do Near Stratford: Perth East & Shakespeare
On your way out of town, there are a couple of key spots that I recommend checking out. These are only a short drive from Stratford. If you find that you have even more time on your hands, I recommend exploring all of the towns and villages of Perth County. In the summer and fall, you'll find lots of fresh and organic produce at the local farm gates. You can pick up some amazing food and ingredients on your way out of town.
Wild Hog Country Market in Perth East
The Wild Hog Country Market is a stunning farm market featuring fresh food and locally made wares. They're just outside of Shakespeare, so you can stop here on your way out of Stratford before continuing on through the village of Shakespeare.
There's a produce department, an on-site cafe and bakery, plus a vast selection of housewares, gifts, and locally made beauty products. Justin and I bought some unique spicy pasta sauce with truffle oil, Italian pasta, and freshly baked bread to bring home for a delicious dinner that evening.
Shakespeare Brewing Company
Save one of your "Bacon & Ale Trail" tickets for the Shakespeare Brewing Company. Located in Shakespeare, Ontario (a short distance from Stratford), their beer is brewed with locally grown ingredients like Ontario barley and 100% Ontario grown hops. Shakespeare Brewing supports local agriculture, farmers, and small businesses, taking the concept of "locally made" to the next level.
Keeping with the Shakespearean theme, their craft beers are all named for animals and feature those animals wearing Olde English attire. The art on each tall boy can is quite visually stunning. While you're at the brewery, a beer flight is a great way to sample a few different brews. There are always new rotating beers on tap, as the owners are always crafting new varieties.